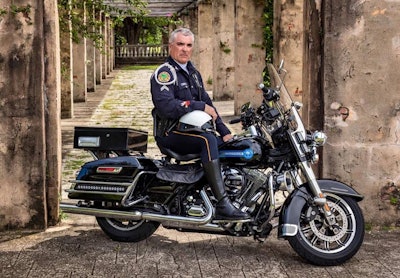 A City of Miami Police motorcycle officer who was involved in a major crash Tuesday in southwest Miami-Dade has died, reports NBC Miami.
Miami Police identified the officer as 53-year-old Jorge Sanchez. He is a 23-year police veteran.
The crash, which happened at the intersection of Southwest 8th Street and 137th Avenue, had the road shut down for several hours and injured a dozen people.
At least six cars were involved in the crash, with one resting on its side. Debris was scattered across the intersection.
Miami-Dade Fire Rescue told NBC 6 a total of 11 people were injured, some in critical condition. Those hurt were taken to Kendall Regional Medical Center and Baptist Hospital.
Police say Officer Sanchez was on his way to work at the Miami Police Department headquarters in Doral. Sanchez was heading eastbound on 8th Street waiting to turn left on 137th Avenue when he was rear-ended by an SUV, police said.
Sanchez's son, Eric, is also a City of Miami police officer.