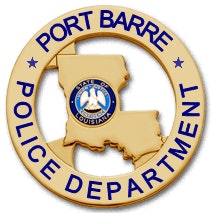 Two Port Barre, LA, police officers were treated for injuries over the weekend after a hit-and-run investigation led to a violent confrontation with some neighborhood residents, according to Chief Deon Boudreaux, reports KATC.
One officer was treated for injuries after a 15-year-old struck him in the head with a fishing pole, while the other suffered an arm injury after he was struck with a metal folding chair, Boudreaux said.
The chief said the officer who was struck with a fishing pole then aimed his gun at the teen, while other officers used pepper spray against the aggressive crowd that swarmed officers responding to a hit-and-run complaint in the 100 block of East Courtableau Drive.
"These officers were there to investigate a hit-and-run crash but instead had to fight with a family of all ages, defend their own lives and nearly had to use deadly force, all because of the disrespect and aggressive lifestyle that was taught from parents to children," Boudreaux said in a statement. "Had back up not arrived, had there been deadlier weapons laying around the yard, an officer, a husband, a father, could've lost his life over a hit and run complaint. A 15-year-old young man could have lost his life had it not been for the compassion and restraint by that police officer."