The role of an officer of the law is a demanding one. You spend most of your day on the go, and when duty calls you need a law enforcement boot that can keep up. Magnum police duty boots, including the new Strike Force and Opus models, are built to handle whatever environment your work throws at you.
Magnum footwear features durable, lightweight materials, side zip technology for fast access, high traction outsoles, available waterproofing for ultimate performance, and a simple yet thorough guide to extending the life of your boots.
Strike Force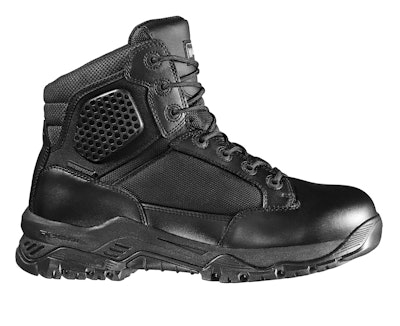 Created using pioneering technologies, the Strike Force is the first boot to use Armourgel, a new material designed to provide ultimate protection from impact that is exclusive to Magnum. Combined with a Recoil midsole that absorbs shock and a Michelin outsole, the Strike Force offers superb grip, durability, and protection for your feet.
Waterproof, wide widths available, no metal, side zipper, slip & oil resistant.
Armourgel, Michelin, and Recoil Midsole
Product Options: 8.0 SZ WP, 8.0 SZ WP Wide, 6.0 WP, 6.0 WP Wide
Price: $130 - $150
Opus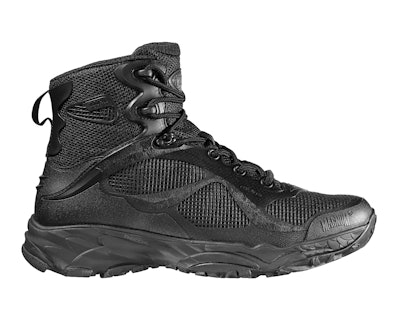 Designed to be lightweight and fast, the Magnum Opus is a blend of athletic meets combat. This sleek silhouette offers foot forming comfort whilst the almost seamless Kurim Protective upper provides high abrasion resistance and protection.
Kurim is constructed by thermo pressing PU with a substrate material. Super lightweight, breathable net mesh creates super high abrasion resistance, with limited water retention and excellent support.
Slip & oil resistant
Recoil Midsole
Kurim Protection
Price: $110
For more information about these and other duty boots from Magnum, visit us.magnumboots.com.