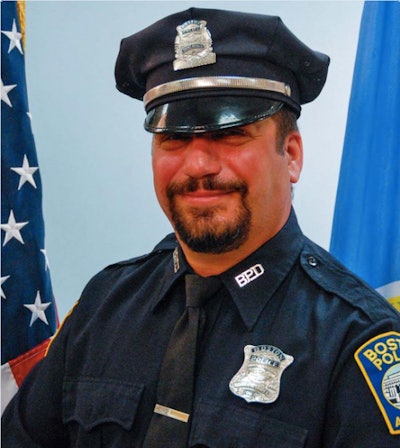 One of two Boston Police officers who were shot in East Boston last week has been released from the hospital.
Boston Police announced via Twitter Wednesday Officer Richard Cintolo was discharged from the hospital.
"He's happy to be home and grateful for the outpouring of prayers and support," Boston Police said.
Officer Matt Morris, the second officer injured in the shootout, is still recovering in the hospital, WHDH TV reports.
Boston Police responded to a call for a possible domestic incident at 136 Gladstone St. before 11 p.m. on Oct. 12 night.
Kirk Figueroa, 33, is accused of shooting two officers in Boston following a domestic incident. Figueroa was sworn in as a constable in the city of Boston in July of 2016.
Figueroa's roommate said they had been arguing about the apartment's heat when Figueroa threatened him with a knife.
When police arrived on the scene, Boston Police Commissioner William Evans said Figueroa displayed a rifle and opened fire. Officers exchanged gunfire with Figueroa, who was wearing a ballistic vest, before he was shot and killed.