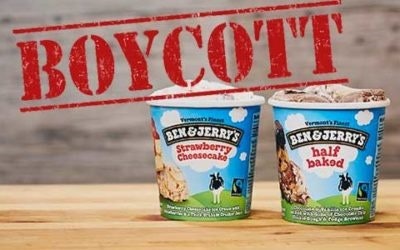 Blue Lives Matter is calling on all Americans to send a message to Ben & Jerry's, and parent company Unilever, to boycott all Ben & Jerry's products.
Ben & Jerry's just recently announced their support for Black Lives Matter along with a misinformation campaign accusing law enforcement of widespread systemic and institutionalized racism. Many companies have offered misguided statements of support for Black Lives Matter in the past, with the false belief that they are expressing support for civil rights.
Black Lives Matter is not a civil rights group. Most people have their own personal beliefs about what Black Lives Matter means to them. They think that their personal definition for Black Lives Matter is what the organized BLM groups stand for; this is not the case. While we believe that other companies were misguided, Ben & Jerry's campaign is dangerous.
Ben & Jerry's went beyond making a statement in support of civil rights when they actively accused law enforcement of widespread racism. By spreading these false and misleading statements, Ben & Jerry's lends an appearance of legitimacy to the baseless claims that police officers are killing men based on the color of their skin. This message has inspired the assassination and attempted assassination of police officers, and it costs officers their lives.
Black Lives Matter is made up of political organizations with political goals that most of Ben & Jerry's customers would disagree with, including disrupting the "nuclear family" structure (see Black Villages), taxpayer-funded slavery reparations for black people (see Reparations), and the elimination of charter schools (see Invest-Divest.) If you are unfamiliar with the Movement 4 Black Lives website we linked to, that's the coalition of over 50 Black Lives Matter organizations which is receiving $100 million in donations to push their political goals.
By not only attacking law enforcement, but openly supporting Black Lives Matter, Ben & Jerry's is sure to anger most Americans who do not agree with the political causes that they are supporting.
Blue Lives Matter is calling on all Americans to boycott all Ben & Jerry's products and send a message that we do not agree with Black Lives Matter or their goals. Please get the word out about the importance of this boycott.
What are your thoughts on the issue? Let us know in the comments below or on our Facebook page.