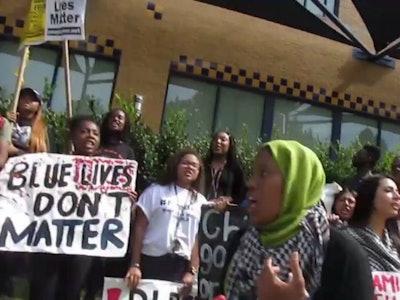 Black Lives Matter protesters at the University of California at Irvine were seen holding signs that read "Blue Lives Don't Matter," "Police Kill The Mentally Ill," and "F**k the Police" Friday as part of their calls to ban the UC Irvine police department.
The protest, which was organized by UC Irvine's Black Student Union, was in response to a talk organized by the university with Los Angeles Police Department Chief Charlie Beck, who was planning to speak on how we can solve problems between police and the community.
According to the university's website, the event was to "bring together leading scholars and innovative practitioners to define the problem, identify challenges, and discuss possible solutions to this persistent issue."
However, the university's Black Student Union considered the discussion insulting, and consequently organized a protest outside the event.
As well as signs suggesting that the lives of brave police men and women do not matter, a video obtained by Campus Reform showed protesters chanting, "Rise up, resist, put those killer cops in jail, the whole damn system is guilty as hell," as they created havoc for fellow students, Breitbart.com reports.