VIDEO: Palm Springs, CA, Mourns 2 Officers Killed in Weekend Shooting
The Palm Springs (CA) PD officers killed in a gunbattle at a domestic disturbance call Saturday were identified as Officer Jose "Gil" Vega, a 35-year veteran of the department who was due to retire in December, and Officer Lesley Zerebny, who had been with the department 1 ½ years and was the mother of a 4-month-old girl, reports the Los Angeles Times.
During Sunday's news conference, an emotional Palm Springs Police Chief Bryan Reyes spoke about the loss of his officers and the impact on the small desert community.
He spoke of how Vega, a father of eight who was working overtime on Saturday, was scheduled to retire in December, and about watching Zerebny's husband, a Riverside County sheriff's deputy, mourn his wife's loss.
"To see her lying there with her eyes open, and to witness her husband, in full Riverside Sheriff's uniform, kiss her on the forehead for the last time, it's tough," Reyes said, his voice quivering. "We're going to rely on you to help get us through this. Our community will get us through this."
Vega was 63. Zerebny was 27.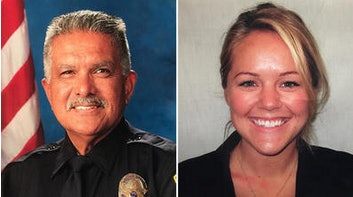 Reyes said the third officer who was wounded in Saturday night's attack was doing well and assisting investigators.
The Palm Springs Police Department has turned the investigation of the shooting over to the Riverside County Sheriff's Department.
Outside the Palm Springs Police Department early Sunday, residents continued to add to the growing tribute of flowers, American flags, and candles left for the fallen officers.
Related:
CA Cop Killer Suspect Had Body Armor, High-Capacity Magazines
2 California Officers Killed on Disturbance Call, Shooter at Large