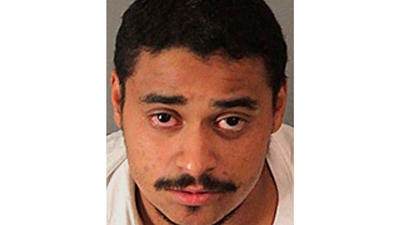 The suspect in the killing of two Palm Springs, CA, police officers and the wounding of another Saturday was wearing body armor and equipped with high capacity magazines when he was taken into custody, authorities said, reports the Los Angeles Times.
SWAT officers made several attempts over the course of a 12-hour standoff to make contact with suspect John Felix, 26, who was holed up in his family's residence, authorities said at a Sunday morning news conference. But there was no response.
Remote-controlled robots were used unsuccessfully to pinpoint the suspect's location in the house. Eventually, chemical agents were deployed into the residence, authorities said.
"Almost immediately ... the suspect emerged out the back door," said Riverside County Sheriff's Chief Deputy Ray Wood. "When he emerged, he was wearing soft body armor and he had a number of high-capacity magazines on his person."
Felix was arrested and is expected to be charged with two counts of first degree murder with the special circumstances of multiple murder and murder of a police officer in the line of duty, authorities said. Riverside County Dist. Atty. Michael Hestrin said his office would decide whether to pursue the death penalty against Felix.
"I consider the brutal murder of a police officer to be a very heinous crime, so I will leave it at that," he said.
The suspect has a history of violence, records show. Felix was previously sentenced to four years in prison in an attempted gangland assassination, reports the Desert Sun.
Neighbor Frances Serrano said the suspect's father was afraid and sought her help just before the shooting began. "He said, 'Help. I need help. My son is in the house, and he's crazy. He has a gun. He's ready to shoot all the police,'" Serrano recalled the father saying.
The officers killed were identified as Officer Jose "Gil" Vega, a 35-year veteran of the department who was due to retire in December, and Officer Lesley Zerebny, who had been with the department 1 ½ years and was the mother of a 4-month-old girl.
Related:
Palm Springs, CA, Mourns 2 Officers Killed in Weekend Shooting
2 California Officers Killed on Disturbance Call, Shooter at Large