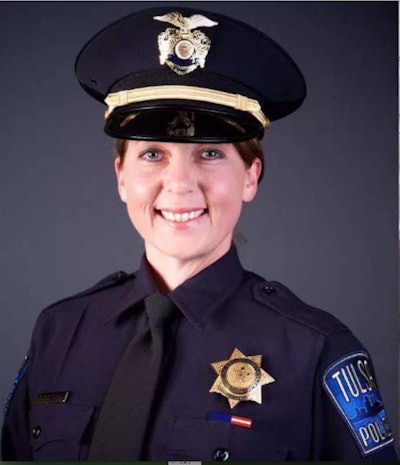 Tulsa police officer Betty Shelby, identified as the officer who shot 40-year-old Terence Crutcher on Friday night, has offered her side of the story in the fatal encounter.
Shelby's attorney, Scott Wood, maintains that Crutcher refused to follow more than two dozen commands and that he reached into the open window of the car before Shelby perceived a threat and shot him.
Shelby was on her way to another call when she came upon Crutcher's SUV parked in the street with the engine running. The man was outside the vehicle. Dispatch was already sending other officers to the scene in response to a 911 call. The 911 call was received at 7:36 p.m. Friday evening.
Wood said "it's important to remember" that Shelby was on the scene with Crutcher for about a minute and a half before the start of the video clip released by police on Monday.
When she arrived at the scene, Crutcher walked toward her. She asked if the SUV was his vehicle, but he did not respond.
Crutcher then began to put his hand into his left pocket, Wood said, adding that Shelby told Crutcher, "Hey, please keep your hands out of your pocket while you're talking to me. Let's deal with his car."
Crutcher did not respond, Wood said, so Shelby ordered him again to get his hand out of his pocket. He then pulled his hand away and put his hands up in the air, even though he was not instructed to do so, which Shelby found strange, Wood said.
Shelby tried to get Crutcher to talk to her, but he simply mumbled something unintelligible and stared at her. He then walked to the side of the road and stood with his hands in the air but put one hand in his pocket again.
Her attorney says Shelby is a drug recognition expert and she suspected Crutcher was "on something," possibly PCP.
Shelby then radioed in that she had a subject "who is not following commands."
"You can kind of hear a degree of stress in her voice when she says that," Wood said.
At this point Shelby pulled her gun, Wood says. She ordered Crutcher to stop multiple times as Crutcher walked toward the SUV with his hands up, Wood said. Shelby repeatedly commanded him to stop, Wood said. His hands were still in the air.
Crutcher's arms came down, and he turned to face the car, Wood said, and he reached into the driver's side window with his left hand. That's when Shelby fired one shot and a fellow officer, Tyler Turnbough, who had just arrived, deployed a Taser.
Shelby believed that when Crutcher attempted to reach into the car, he was retrieving a weapon, Wood said. In her interview with homicide detectives, she said, "I was never so scared in my life as in that moment right then," according to Wood.
The Department of Justice is investigating the shooting, ABC News reports.