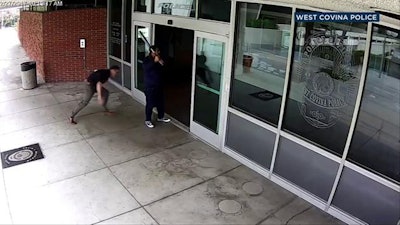 A bat-wielding man was taken into custody Monday morning after he threatened civilians and bystanders at the West Covina Police Department and was tackled by an officer, officials said.
Christopher Rivas, 28, was arrested for alleged assault with a deadly weapon and resisting an officer, a news release said.
The incident, which was captured on surveillance video, began about 10:18 a.m. when Rivas approached the department's front lobby on foot and "began striking the large glass windows," according to the statement.
An officer was outside and saw what was transpiring, KABC TV reports. The footage shows him running toward Rivas from behind and tackling him through the entrance. Several other officers then helped subdue and handcuff the suspect.