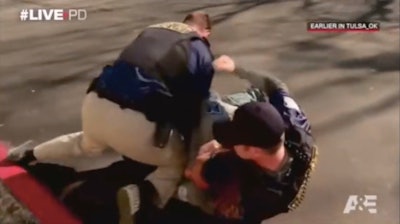 Tulsa, OK, Mayor G.T. Bynum has confirmed on his Facebook page that the Tulsa Police Department has decided to not continue its association with the A&E TV show "Live PD" now that its contract has expired.
On "Live PD," which airs on A&E Friday nights, cameramen and producers follow police departments around the country and capture officers in real-time while on the job. Tulsa Police Department has been one of those departments, KJRH TV reports.
"No one 'cancelled' Live PD. The contract ended and our Police Department leadership determined they did not want to renew it. As the people responsible for protecting our community, I support their decision," Mayor Bynum wrote in response to a commenter on his Facebook page who was angered by the decision.