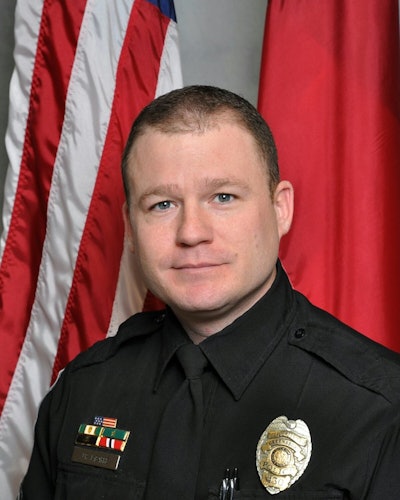 A Greensboro, NC, police officer was shot and wounded and a suspect was killed in a gunfight that began with a traffic stop Friday afternoon.
Officer J.R. LaBarre and Officer L.S. Garrison were patrolling the area in response to a tip about drug activity in the area.
When the officers tried to stop a red Chevy Impala, the driver initially refused to stop, according to police.
The officers followed and called for backup. Both the passenger in the Impala—identified as Carlos Keith Blackman—and Officer LaBarre got out of their vehicles before they came to a full stop, and a short foot chase started.
Audio from the LaBarre's body worn camera captured the sound of several gunshots fired in rapid succession. Seconds afterwards, Garrison found her partner in an overgrown thicket, with a single gunshot wound to his upper torso.
Police later found Blackman. He had been shot multiple times. He was taken to Moses Cone Hospital where he later died from his wounds.
LaBarre was treated at Moses Cone Hospital and released early Saturday morning. He is scheduled to receive additional medical care in the near future, Fox 8 reports.