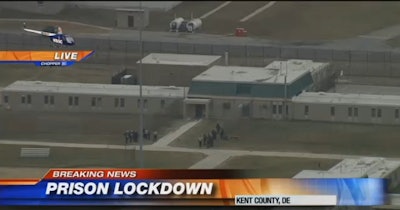 VIDEO: Inmates Holding Guards Hostage at Delaware Prison
Delaware prisons were locked down Wednesday as authorities responded to a hostage situation at the James T. Vaughn Correctional Center, the state's maximum security prison in Smyrna.
DOC Response Teams and Delaware State Police were on the scene responding to the situation, according to DOC spokesperson Jayme Gravell, reports WBOC TV.
A preliminary investigation now suggests the incident began about 10:30 a.m. when a correctional officer inside Building C, which houses over 100 inmates, radioed for immediate assistance, Delaware State Police spokesman Sgt. Richard Bratz said at a news conference. Other officers responded to help, and five Department of Corrections employees were taken hostage, reports the Associated Press.
The inmates released one hostage at about 2:40 p.m. local time, Bratz said. That person was taken by ambulance to a hospital with injuries that were not life-threatening, he said.