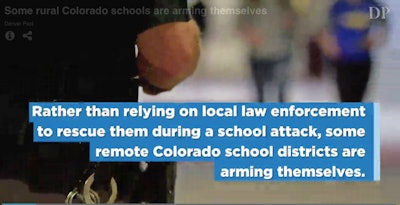 Teachers and staff members in at least a dozen of Colorado's most remote school districts are arming themselves instead of waiting for local law enforcement to rescue them in the face of a Columbine-style attack.
Those districts have employees carry concealed weapons, train like law officers and then be the first line of security should a school or classroom be targeted by assault.
Colorado law prohibits firearms in the classroom but does allow for security personnel to be armed. These smaller districts, fearing their vulnerability because of their far-flung locations, are training and reclassifying some teachers and staff as security personnel and overseeing the safe storage of their weapons, the Denver Post reports.