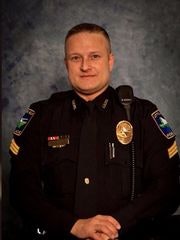 A Little Elm, TX, police officer was shot and killed Tuesday afternoon after police approached a man carrying a gun in a residential area, according to authorities. The suspected shooter was later killed after an hours-long standoff, reports USA Today.
Officers responded to the home around 3 p.m. CT after residents reported seeing a man with a gun, officials said. After being told to drop the weapon, the suspect began shooting at officers from inside the house, Lt. Orlando Hinojosa said. Detective Jerry Walker was hit, officials said at a news conference. He later died at the hospital.
Walker, 48, was a father of four and an 18-year veteran of the force.
The suspected gunman was found dead around 10 p.m, The Dallas Morning News reported. He had holed up in a house in the 1400 block of Turtle Cove Tuesday evening, surrounded by police and SWAT.