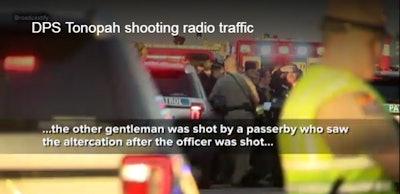 An Arizona Department of Public Safety trooper was ambushed and shot early Thursday morning on I-10 near Tonopah. The attack against the trooper ended when a civilian shot and killed the suspect.
The incident began with a report from a citizen that another motorist had fired shots at their vehicle.
A trooper in the area left another traffic stop nearby to investigate the call when he came upon a rollover crash near milepost 89. He saw a woman who had been ejected from the crash and began working to block lanes.
At that time, DPS says the trooper was "ambushed" by a suspect who came from an unknown direction. The suspect shot the trooper at least once in the right chest-shoulder area and fought the trooper to the ground.
A passerby stopped to render aid and the trooper asked for help. Officials say the driver went back to his car, grabbed a gun and shot at the suspect who was not following his commands to stop attacking the trooper. The suspect was killed, ABC 15 reports.
DPS Col. Frank Milstead says the injured trooper was taken to the hospital where he is awaiting surgery. He is in stable condition.
Col. Milstead says he hasn't talked to the passerby who shot the suspect, but says "thank you because I don't know if my trooper would be alive today without your assistance."