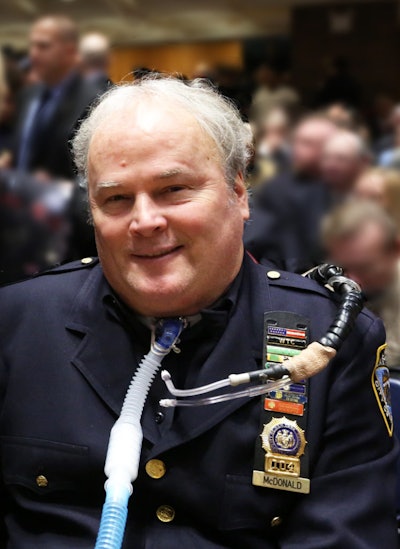 Officer Steven McDonald, a New York City police officer who was shot by a 15-year-old boy in Central Park in July 1986 and paralyzed from the neck down, but who forgave his assailant, hoped for the youth's redemption, and remained in the public eye for his spirit in the face of adversity, died on Tuesday in Manhasset, NY. He was 59.
Officer McDonald was hospitalized on Friday after having a heart attack. His death, at North Shore University Hospital, was announced by Police Commissioner James P. O'Neill, reports the New York Times.
A plainclothes police officer when he was shot, Officer McDonald remained on the Police Department's payroll afterward as a first-grade detective, at times appearing at roll calls and offering support for wounded officers.
His son, Conor, who was born six months after the shooting, is a sergeant with the New York Police Department and represents the fourth generation of the family to serve in the department.
"No one could have predicted that Steven would touch so many people, in New York and around the world," said Commissioner O'Neill, reports NYPDnews.com. "Like so many cops, Steven joined the NYPD to make a difference in people's lives. And he accomplished that every day. He is a model for each of us as we go about our daily lives. He will be greatly missed, and will always remain a part of our family."