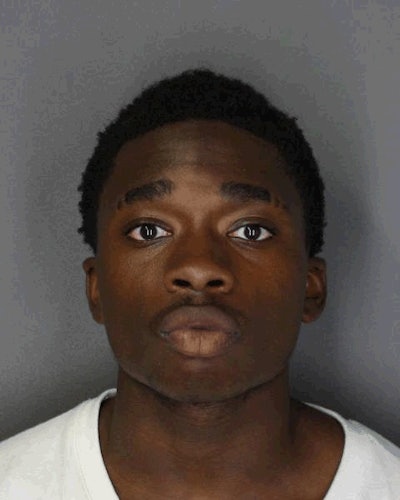 A Buffalo, NY, police officer found herself in a fight for her life early Sunday inside her SUV patrol car with a man who had gone berserk on synthetic drugs, authorities said.
Moments before that encounter, the suspect, feigning injury sprawled in the middle of the intersection of Main and Barker streets, leaped into the front seat of a car driven by a man who had stopped out of concern, police said.
The motorist, who was on his way to work at about 5:30 a.m. Sunday, was armed with a pistol and shot his attacker in the hand. That enabled the motorist to drive a short distance and call 911 on his cellphone.
Central District Officer Jasmine Olmstead responded to the call and spotted a bleeding man lying in the intersection at Main and Barker.
"She drove up slowly and opened her driver's side door and called out to the man, 'Sir, are you OK?' He jumped on the hood of the patrol car and worked his way over to the open window and climbed onto her lap and started punching her and grabbing for her gun," said Central District Chief Joseph A. Gramaglia.
At Erie County Medical Center, Elijah Davis, 20, of Buffalo, admitted to another officer and the doctor treating him that he had been smoking synthetic marijuana and had also consumed "mollies," a lesser known type of ecstasy.
Olmstead was also treated at ECMC, later released and placed on injury leave, the chief told Buffalo News.
Davis, who remained in police custody, was charged with felony assault of a police officer, and multiple misdemeanor charges of obstructing governmental administration, resisting arrest and harassment.