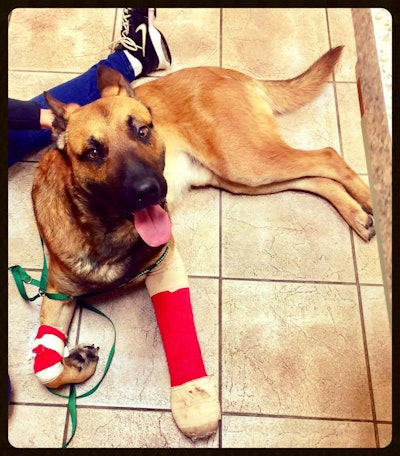 An Elk Grove, CA, Police K-9 is recovering after being shot Saturday night as officers responded to reports of an armed robbery, reports KTXL.
Elk Grove Police K-9 Blu is recovering at his home after being treated at VCA Bradshaw Animal Hospital and released Sunday.
According to Elk Grove Police Officer Chris Trim, officers responded to reports of two suspects who had robbed the Jamba Juice on West Stockton and Laguna boulevards at gunpoint.
Officers spotted two men that matched the description of the alleged robbers. Trim said the two men ran toward a waiting getaway car with a woman behind the wheel. During the chase, one of the men fired at K-9 Blu, hitting him twice.
The suspects are in custody.