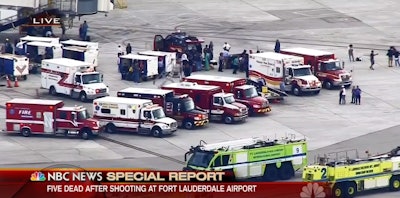 An active shooter attacked Fort Lauderdale-Hollywood (FL) International Airport Friday Afternoon, killing five people and wounding eight before he was taken into custody, the Broward County sheriff said.
The suspected gunman appeared to be shooting randomly into a crowd as panicked travelers took cover behind chairs — and he only stopped when his bullets ran out, according to witnesses. Multiple senior law enforcement sources identified the suspect as New Jersey born Esteban Santiago, 26, and said he had a military ID on him.
Law enforcement officials told NBC News they believe Santiago arrived on a flight from Canada, picked up his firearm at baggage claim and then began the shooting spree.
Broward Sheriff Scott Israel said at a news conference the shooter was apprehended without incident, and the situation was "fluid and active" while the airport remained closed. Federal authorities declined to give details about the shooter or his weapon, and said he was being interviewed to determine a motive.