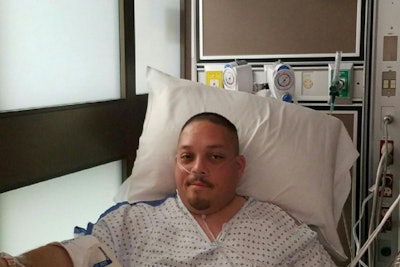 A Valley Brook, OK, police officer was shot in the femoral artery and seriously injured in southeast Oklahoma City.
According to the Oklahoma County Sheriff's Office, Officer Brian Southerland was making a traffic stop on Interstate 240 near Eastern around 5:30 p.m. Sunday, reports KOCO.
The sheriff's office said Southerland made contact with the driver and when he was walking back to his cruiser, he was shot in the leg. At least one other vehicle was hit with gunfire, but no other injuries were reported.
According to the sheriff's office, an Oklahoma County deputy was among the first at the scene and made a tourniquet to stop the bleeding.
The officer underwent surgery on his leg. Police said he is in serious but "stable" condition.
Police took the shooting suspect into custody Monday night. He has been identified as Cory Lee Hartsell, 27.
The Valley Brook Police Department has set up a GoFundMe account to help support Southerland and his family while he is in recovery, reports KOTV.