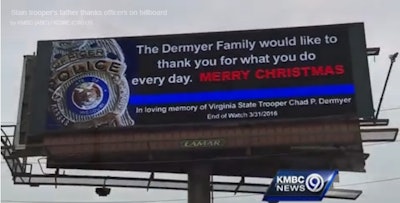 John Dermeyer of Northland, MO, is expressing his gratitude to police officers in a big way this Christmas. Dermeyer, father of slain Virginia State Trooper Chad Dermeyer, has produced a billboard ad thanking all officers for their service.
Dermyer, whose son was shot and killed earlier this year, said it's been a tough time, especially with the holidays. Instead of sadness, he wanted to send a message of support to all police officers for what they do every day.
He came up with a concept, added a design and then made a phone call to Lamar Advertising, expecting to pay for the ad. The company created and placed the ad for free.
The billboard is now up in four locations in Kansas City. It's also up in Virginia, where Trooper Chad Dermyer served, KMBC TV reports.