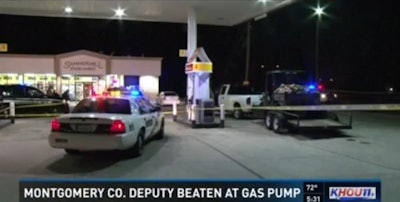 An off-duty Montgomery County deputy and his wife opened fire on two suspects after they reportedly began assaulting the deputy at a gas station Saturday evening.
It happened around 6 p.m. Saturday on Sorters road at Summer Hills.
Police say the deputy was with his wife in his private vehicle at a Shell gas station. He was putting gas in his vehicle when the two suspects walked up and attacked him.
Both the deputy and his wife pulled out guns and shot at the suspects. The suspects fled the scene and it is unknown if they were injured in the gunfire, KHOU TV reports.