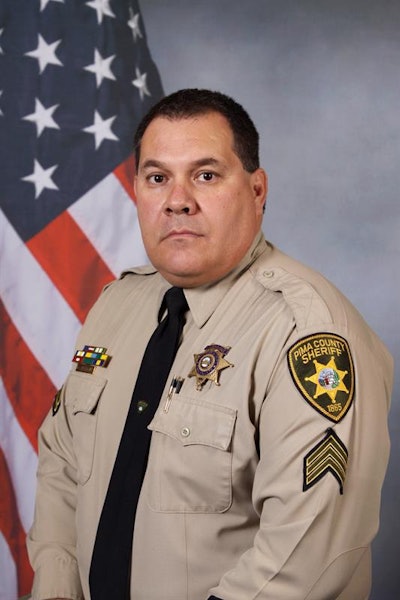 A sergeant with the Pima County (AZ) Sheriff's Department lost an eye after a woman kicked him in the face with her boot heel, according to a department press release.
On Saturday, December 10, 2016, around midnight, Pima County Sheriff's Department traffic deputies conducted a Driving Under the Influence (DUI) investigation in the area of East Drexel Road and South Alvernon Way. Traffic deputies initiated an arrest of 28-year-old Yesennia Gonzalez and placed her into handcuffs. As deputies were attempting to place Ms. Gonzalez into the patrol car, she became physically resistant and deliberately began kicking at those around her.
Ms. Gonzalez intentionally kicked Traffic Unit Sergeant Mark Bustamante in his left eye with the heel of her boot. This caused a severe injury to his eye, requiring him to be transported to the hospital. Ms. Gonzalez also kicked another traffic deputy who was on scene. Once at the hospital, doctors operated on Sgt. Bustamante's left eye, but were not able to save it.
Ms. Gonzalez was booked into the Pima County Adult Detention Complex for two counts of Aggravated Assault on a Police Officer, one count of Resisting Arrest, and one count of DUI.