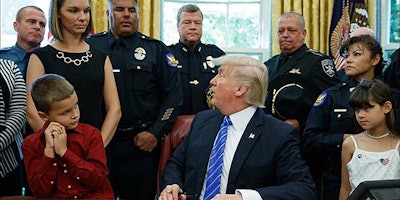 The family of a Phoenix police officer who was feloniously killed on duty in 2015 met with President Donald Trump at the White House on Monday morning as part of the observance of National Police Week.
David Glasser's widow, Kristen, their son and several Phoenix Police Department members visited with Trump while he signed a proclamation, KTAR TV reports.
"I had the chance to spend time with Officer Glasser's beautiful family. His wife, Kristen, and his 6-year-old son, Micah, who has my hat and is now with us," Trump said.
"Kristen and Micah, I know your beloved husband and father is looking down on you right now from heaven and he is so proud of you both. Thank you very much."
Glasser was shot May 18, 2015, while he was investigating a burglary call in Laveen, a part of southwest Phoenix. He died of his injuries the next day.