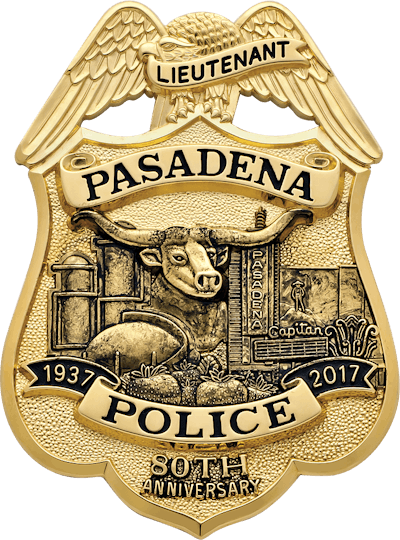 Smith & Warren, a U.S. manufacturer of uniform badges and insignia, won the North American Association of Uniform Manufacturer and Distributors (NAUMD) "Best Badge or Emblem Design" Innovation Award for its Pasadena (TX) Police Department badge.
"Our department has over 250 sworn police officers, and we needed a badge that represented our community and dedication to public safety," said Josh Bruegger, assistant chief of the Pasadena Police Department. "It was important for the badge to incorporate Pasadena's rich history, and Smith & Warren met that challenge and delivered a design that exceeded our expectations."
Smith & Warren's Pasadena Police Department badge was created to commemorate the department's 80th anniversary and celebrate the city's unique landmarks. The badge represents the area's deep roots in the agriculture, entertainment and industrial industries and features an iconic Texas Longhorn. Smith & Warren used cutting-edge technology and an extensive amount of hand modeling to create the steel die that was used to form the solid brass badges.
"We take our customer's ideas and bring them to life, creating a one-of-a-kind design they can wear with pride," said Lee Galperin, president, Smith & Warren. "This award highlights our commitment to developing designs that last generations, and we're thrilled our expertise was recognized through the Pasadena Police Department badge."
Galls, the largest public safety equipment and apparel supplier in the industry, sold the Pasadena badges and administered the new badge program.
"The law enforcement badge is an essential part of a police officer's uniform, reflecting authority, trust and commitment," said Michael Wessner, CEO of Galls. "We are proud to serve America's public safety professionals, so it was a pleasure working with both the Pasadena Police Department and Smith & Warren on this award-winning project."
The NAUMD "Best Badge or Emblem Design" Innovation Award was created to celebrate excellence within the industry. The Innovation Awards are judged based on the following criteria: the benefit of the wearer, application of a new technology, overall creativity and the quality of the research process that produced the innovation.
About Smith & Warren
Smith & Warren has been proudly manufacturing uniform badges and insignia in the United States since 1925, and is the most technologically advanced badge manufacturer in the United States. The finest materials are combined with cutting edge manufacturing technology to produce a product that can be worn with pride. Every Smith & Warren badge comes with a full lifetime warranty. To learn more about Smith & Warren visit http://www.smithwarren.com.