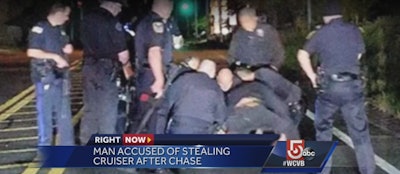 Hanson, MA, police said that a man who led them on a chase overnight was able to get into an officer's cruiser and prolong his crime spree.
The series of events began at 1 a.m. Thursday when officers said they saw a 2010 Chevy Malibu speeding and failing to stop at a stop sign. The driver, identified as Daniel Egan, refused to pull over and a pursuit ensued, WCVB TV reports.
The Malibu's tires were punctured and Egan brought it to a stop and fled into the woods, police say.
"Officers attempted to take Mr. Egan into custody but he managed to escape," police said. "Egan then got into and fled in a marked (Halifax PD) cruiser."
Egan was apprehended after another 20-minute pursuit, police say.