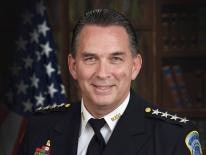 The D.C. Council on Tuesday confirmed Peter Newsham as police chief, voting 12 to 1 to make the veteran the 30th leader of the District's crime-fighting force since the department was formed at the start of the Civil War, reports the Washington Post.
Newsham, 52, has been serving as acting chief since Mayor Muriel E. Bowser (D) chose him to fill in for Cathy L. Lanier, who retired in September after serving for nearly a decade. In February, Bowser named Newsham to lead the police force.
In a statement, Bowser said that "Peter understands the value of working with the community, he is constantly looking for new ways to increase accountability, and his empathy for those affected by crime drives a sense of urgency around making MPD work better for residents in every ward."
Newsham joined the force in 1989 and quickly rose through the ranks, earning a law degree along the way. His confirmation comes as the city is experiencing a crime drop, particularly in assaults and robberies. Challenges remain in reducing homicides and continuing to engage residents. His five-year contract has an annual salary of $253,817.
As he takes over as permanent chief, Newsham said one of his biggest challenges will be retaining and hiring officers, and he noted bills proposed by Bowser that offer incentives to his workforce.