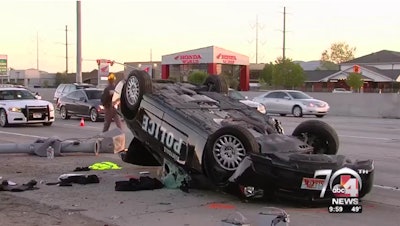 A Bluffdale, UT, police officer was injured after he joined a pursuit and his car crashed, ending up on its roof at the 106th south exit of I-15, reports KTVX.
Sgt. Todd Royce of the Utah Highway Patrol said the officer followed the suspect exiting , "The suspect was taking the off ramp. The officer was also taking the off ramp. And we don't know exactly what happened. But it looks like the Bluffdale officer rolled down through a lower area of I-15 and ended up being on his top in the emergency lane."
The Bluffdale officer sustained minor injuries. The suspect got away and police aren't saying why they started chasing him, but they say they do know who he is.