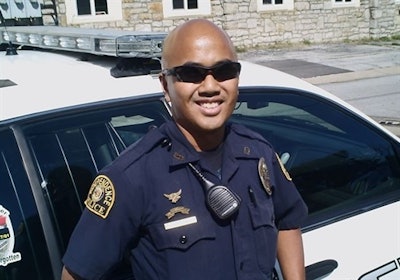 An Independence, MO, police officer who was shot in the head March 29 as he responded to a burglary call is reportedly making a remarkable recovery.
Dr. Roger Ray, neurosurgeon at Centerpoint Medical Center, says Officer Tom Wagstaff, 42, has been transferred out of the hospital to a rehab facility, Fox4KC reports.
"Today we are pleased to report that Officer Tom Wagstaff has been transferred to a long-term rehabilitation facility for his next phase of recovery. In my 30+ years as a physician, I've yet to see such a remarkable recovery - truly a miracle in the making.
"While Officer Wagstaff has a long road to recovery, we are confident that he will continue to make improvements and we will be by his side throughout his journey," Dr. Ray wrote.