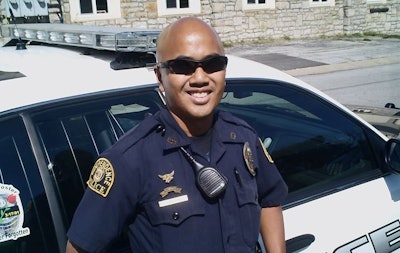 Investigators are trying to determine if a suburban Kansas City, MO, police officer who was critically injured when he responded to a reported robbery was struck by a bullet from two suspects or from a fellow officer, authorities said Thursday.
Four men were charged after a confrontation Wednesday that injured Officer Thomas Wagstaff, 42, a 15-year veteran of the Independence, MO, Police Department. Wagstaff underwent surgery and remained in critical condition Thursday, reports the Associated Press.
Joseph Wyatt, 28, and Ronar Santiago-Torres, 27, were charged with assault on a law enforcement officer, robbery and kidnapping, armed criminal action, burglary and kidnapping.
Prosecutors said the two men forced their way into an Independence home Wednesday and assaulted the man who lived there while trying to get into a safe. When officers responded, the suspects allegedly fled by driving the victim's vehicle through the garage door. Wagstaff was shot in the ensuing confrontation.
Jackson County Prosecutor Jean Peters Baker on Thursday also charged two other men who prosecutors say took Wyatt and Santiago-Torres to the home to commit the robbery.
"The individuals who are responsible for the injuries to Officer Wagstaff have been charged," Peters Baker said. "I hold them accountable in every possible way for his injuries and I will continue to do so."