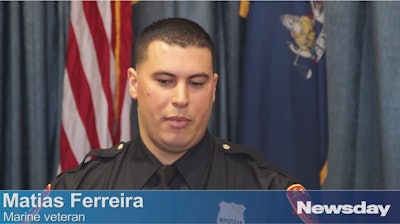 In 2011, Lance Cpl. Matias Ferreira led fellow Marines into an Afghani village. They cleared out a compound, and then came the fateful moment — Ferreira, a machine-gunner, jumped from a rooftop to retrieve some supplies.
He didn't see the 30-pound bomb concealed in the ground.
His legs were shattered in the blast. Both had to be amputated below the knee.
Ferreira, now a 28-year-old married father who stands on titanium prosthetics, soon fulfills one of his childhood dreams. Friday, he became a Suffolk County (NY) police officer.
Ferreira is believed to be one of the nation's first double amputees to serve as a fully active police officer, said Suffolk Assistant Commissioner Justin Meyers, a department spokesman.
Police Commissioner Timothy Sini called Ferreira "the quintessential example of what we're looking for" in a cop.
"This is someone who served our nation, paid a significant sacrifice, and is now able to overcome adversity in a tremendous way," Sini told Newsday. "He's done a terrific job as a recruit in the academy, both physically, academically and in his leadership to the other recruits, and he's going to make a fine officer."