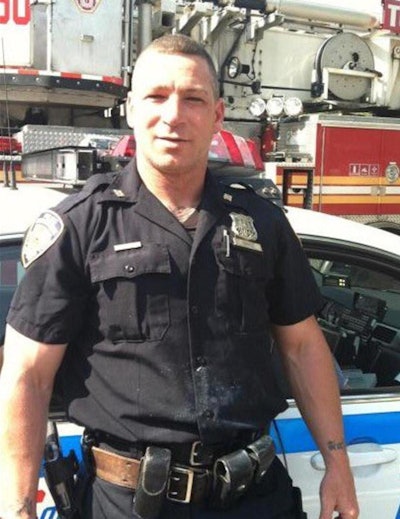 NYPD Officer Michael Hance died of cancer he developed following his assignment to the search and recovery efforts at the World Trade Center site following the 9/11 Terrorist Attacks. He was 44.
Hance, who worked out of the 111th Precinct stationhouse in Bayside, Queens, was diagnosed with brain cancer in November after he fell in front of his home and complained of feeling dizzy, his brother said. As he fought the disease, the cancer spread to his lungs, liver, and chest, reports the New York Daily News. The father of two died Sunday.
Many remember Hance for a viral video of him dancing. In 2015, when Hance was on duty at the Pride Parade in New York City, he started dancing along with a man marching in the parade, and the brief cell phone video of it was a viral hit. Hance was heterosexual, so the video of him dancing and having fun during the pride parade was seen as a symbol of connection between law enforcement and the LGBTQ community, reports CNN.
"Although not a member of GOAL NY, he certainly brought a smile to all of our faces when he danced," the Gay Officer Action League of New York wrote on their page to raise funds for the two daughters Hance leaves behind. "You will truly be a missed ally," GOAL NY wrote on the news of Hance's passing.