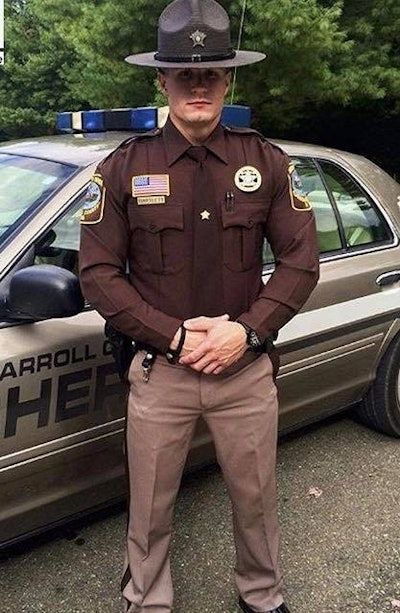 A Carroll County (VA) Sheriff's Office deputy was killed in a patrol vehicle crash while responding to assist fellow officers late Thursday night in Hillsville.
"[Dep. Curtis Allen Bartlett, 32] was responding to assist a fellow Sheriff's Deputy and Virginia State Police trooper with an ongoing pursuit in Carroll County. The Sheriff's Deputy was traveling west on Route 58 with emergency lights and sirens activated when it collided with a tractor-trailer making a left turn onto Route 58 from the Interstate 77 Exit 14 ramp," the Virginia State Police said in a press release early Friday morning. "The tractor-trailer had the green light and was only traveling approximately 25 mph. The Deputy's vehicle was unable to avoid the tractor-trailer and struck the rear tandem. The Sheriff's Deputy died at the scene."
The Sheriff's Deputy was wearing a seatbelt at the time of the crash, the Carroll News reports. The driver of the tractor-trailer, a 59-year-old male from Barren Springs, was not injured in the crash, according to the state police.
"The pursuit was initiated by a Carroll County Sheriff's Deputy at approximately 9:50 p.m., along Route 58 near I-77 Exit 14," the State Police said in the press release. "The suspect vehicle went through a field and then the driver and passenger fled on foot. Within minutes both suspects were in custody – one was apprehended by the Carroll County Sheriff's Deputy and the other taken into custody by a Virginia State Police Trooper assisting with the pursuit."