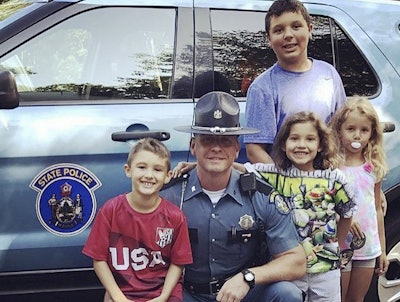 A Maine State Police trooper was reunited for the first time in six years with four children he stood guard over while police searched for their mother's killer, reports the Portland Press Herald.
Trooper Nathan Jamo was the first on the scene after Renee Sandora and her friend Trevor Mills were fatally shot on July 25, 2011, at her home in New Gloucester. While police searched for gunman Joel Hayden, who was also the children's father, Jamo stood guard on a neighbor's porch to protect Sandora's four young children, state police said in a Facebook post.
When other police arrived that night, Jamo stayed to make sure the children were brought safely to family members before leaving them.
He didn't see the children again until Sunday – six years later.
Pat Gerber, the mother of Renee Sandora, adopted her daughter's four children with her husband, Mark. The children – Ja'kai, 13, Javanni, 8, and 6-year-old twins Jiselle and Julissa – now live in New Gloucester, where they are doing well, Gerber said.