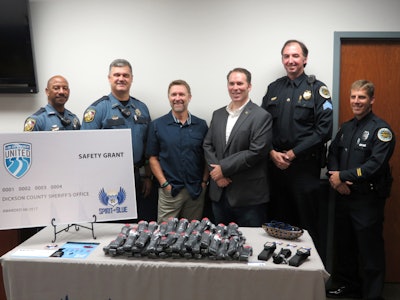 Yesterday, the Spirit of Blue Foundation partnered with country music star Craig Morgan to present a safety equipment grant to the Dickson County (TN) Sheriff's Office. The grant includes 70 tourniquets along with tactical belt holders that will be issued to all patrol division and reserve deputies that serve the county. Morgan formerly served as a deputy with the Sheriff's Office in Dickson County before embarking on his country music career and was on hand to present this grant to the Sheriff's office in his hometown.
The grant, with a combined value of $4,238, is the first of Spirit of Blue's 2017 Tourniquet Project campaign and was funded by a generous donation from Law Enforcement United (LEU). LEU is an organization of over 1,000 active and retired police officers who honor fallen officers and raise funds to assist charitable organizations that serve the law enforcement community.
"Having served as a deputy with the Sheriff's Office, I know firsthand how critical it is to have this kind of lifesaving equipment available for all of our men and women on the force," said Morgan, following the event. "I'm glad for the opportunity to take part in this donation to Dickson County and proud to help kick off Spirit of Blue's Tourniquet Project Campaign."
Tourniquets are vital pieces of medical equipment that officers and deputies require on the road in the event of a traumatic injury to an extremity. When only precious minutes exist to treat such an injury, tourniquets are able to be applied individually or on a co-worker to prevent excessive blood loss until that individual can be placed into medical care. As a secondary benefit, officers and deputies who carry a tourniquet are also able to use them to rescue a member of the community who may have experienced a similar type injury, as happened with the Monroe County (NY) Sheriff's Office in July of this year with tourniquets that Spirit of Blue granted to them in October of 2015.
"Being the recipients of this grant from Spirit of Blue means a tremendous amount to a sheriff's office of our size. We operate on a limited budget and being able to supply all of our deputies with a new piece of equipment isn't always feasible," commented Sheriff Jeffrey Bledsoe of the Dickson County Sheriff's Office. "The tourniquets and duty belt holders we are receiving will be an asset to each of our deputies. Dickson County has a lot of areas that are rural and remote. These tourniquets could mean the difference between life and death for any one of our deputies who are out there putting their service to Dickson County ahead of themselves on a daily basis. We are very appreciative of what Craig Morgan and the Spirit of Blue are doing for us here."
The C-A-T Tourniquet, manufactured by North American Rescue, has proven to be 100% effective in occluding blood flow in both upper and lower extremities by the U.S. Army's Institute of Surgical Research and has been the official tourniquet of the U.S. Army since 2005. The duty belt holder, manufactured by Blue Force Gear, is constructed with their proprietary, lightweight ULTRAcomp material and was specially designed for Spirit of Blue's Tourniquet Project Campaign to hold the C-A-T Tourniquet. Spirit of Blue has granted 463 C-A-T Tourniquets since its first tourniquet grant in 2014. In 2017, Spirit of Blue has a goal of granting another 1,000 tourniquets to officers who need them across the country. To learn more, or participate in the campaign, visit www.spiritfoblue.org/TQ