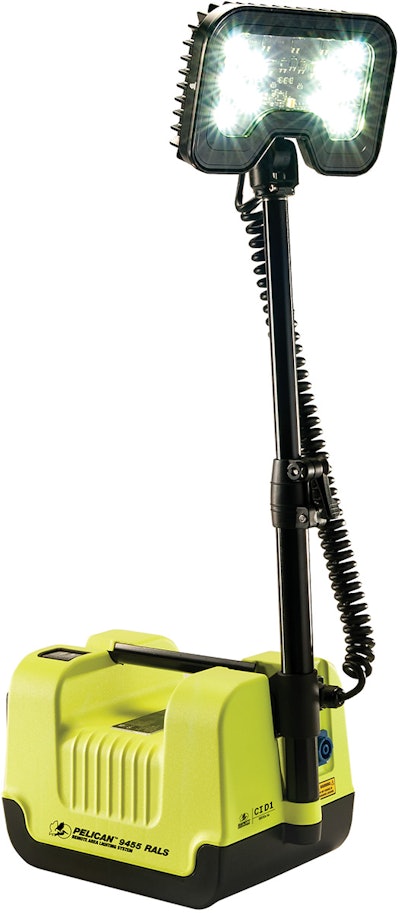 Pelican Products has announced the launch of the new safety certified Pelican 9455 remote area lighting system (RALS), attaining the first Class I, Division 1 / IECEx ia / Zone 0 certification.
"The 9455 RALS has passed rigorous evaluations conducted via certified test labs, making it the unparalleled safety industry leader among remote area lights," said Scott Jones, Director of Product Management, Lighting. "The 9455 has an astounding 1600 lumen output and is the first safety certified remote area light with a 125-degree beam, providing workers with a significantly wider view for higher situational awareness in work areas where safety is paramount," said Jones.
The 9455 has three lighting modes: high, low, and flashing. It will provide up to 10 hours of light on low output setting (enough for an entire work shift), and five hours on the high output mode, according to the company. Built for performance and durability, this dynamic light source is ideal for use by first responders, search and rescue, law enforcement, military, industrial, construction, industrial, aerospace, and recreational activities.
Additional key features include:
Extendable mast with a 360-degree rotating head allowing illumination in any direction.
Low battery warning with a flashing light for visual indication.
Nickel-metal hydride (NiMH) rechargeable battery with a lifespan of over 300 cycles.
LED lamp has a life expectancy of more than 50,000 hours.
Rugged construction, with the body made from polycarbonate/ABS and the head made from aluminum.
Pelican's new 9455 RALS has an MSRP of $ 1,738.86 and is backed by the company's 1-year guarantee.
For more information, visit www.pelican.com/9455.