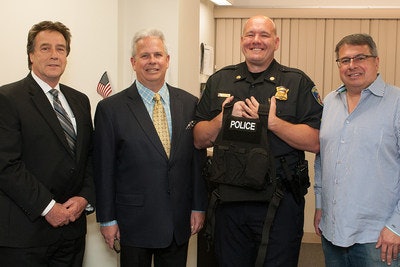 Weston Shooters Club of Weston, MA, announced that it has donated $15,000 to purchase body armor for the Framingham (MA) Police Department. With funds provided by Weston Shooters Club, Framingham PD was able to purchase 25 sets of ballistic vests, helmets, and related equipment for its officers.
Through its relationship with Mark Haranas, president of MutualOne Bank of Framingham, Victor Grillo learned that the Framingham Police Department was seeking funds to purchase new body armor for its officers. Victor Grillo, owner of Weston Shooters Club, subsequently jumped at the opportunity to fund the purchase.
Grillo said, "Our members are strong supporters of responsible gun ownership and firearms safety. We are pleased to be able to help our friends in law enforcement stay safe as they work to protect our community every day from those who don't share the same gun values we do."
Mark Haranas, president of MutualOne Bank, said, "We have been supporting police efforts for years. Teaming up with Weston Shooters Club has been a great experience."
Kenneth Ferguson, Chief of the Framingham Police Department, said, "We are so grateful when members of the community step up to the plate to fund improvements that keep our officers and community safe. On behalf of everyone at the Framingham Police Department, we thank Weston Shooters Club and MutualOne Bank for their generous donations."
For more information, visit http://www.westonshootersclub.com/.