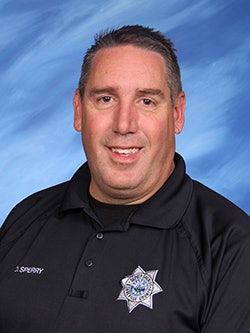 The National Association of School Resource Officers (NASRO) presented its Floyd Ledbetter National School Resource Officer of the Year Award to Deputy Dan Sperry of the Bonneville County (ID) Sheriff's Office. NASRO presented the award during its annual School Safety Conference. More than 900 police officers, educators, and others are receiving specialized training at the conference this week.
Sperry serves as a school resource officer (SRO) at Bonneville High School in Idaho Falls. The annual award recognizes an SRO who has made specific and significant contributions to the officer's local town, city, county, and/or school district.
"Deputy Sperry has been a positive asset to his school district and his police department in his current capacity for 17 years," said Mo Canady, NASRO executive director. "He is a positive mentor for his students and builds many strong relationships as a School Resource Officer."
In addition to performing the normal duties of an SRO in an exemplary manner, nomination letters described actions Sperry takes that go beyond those expectations. For example, Sperry uses his personal experiences to help students who have experienced loss work through the grief process. He advocates strongly for bus safety and traffic safety within his district. Sperry has been active in two state SRO associations. He introduced NASRO's nationally recognized SRO courses to Idaho and earlier helped form the Wyoming SRO Association.
NASRO presented its Meritorious Service Award to Deputy Kevin Teague, Williamson County Sheriff's Office, Franklin, Tennessee. Teague reacted quickly and deliberately in responding to a first-grade student in distress. His actions have been credited with saving the life of this student at Bethesda Elementary School.
The organization presented its Chief Nicholas C. Derzis Safe Schools Leadership Award to four recipients. This award recognizes individuals for their contributions and dedication to a school resource officer program and the many children, parents, and faculty members of their communities and schools. This year's recipients include:
Chief Nicholas C. Derzis, Hoover Police Department, Hoover, Alabama, for whom NASRO named the award this year. This is only the fourth time in NASRO's 27-year history that the organization has named one of its awards for an individual. In 2003, NASRO recognized Derzis' department as a model SRO agency. The success of its SRO program is a direct result of the leadership Derzis provided. His commitment to school safety extends well beyond the city of Hoover, which is demonstrated by his service on the NASRO board of directors since 2006. Derzis' work has led to many positive school safety initiatives across the country.
Chief Terrence Sheridan, Baltimore County Police Department, Baltimore County, Maryland, who implemented the first SRO program in the Baltimore/Washington region.
Vicki Almond, Baltimore County Council, Towson, Maryland, who advocated for her county's SRO program both as a community volunteer and activist and as an elected official.
Dr. Dallas Dance, former superintendent, Baltimore County Public Schools, Towson, Maryland, who led sweeping improvements in school safety focused on incident prevention.
As part of the conference, the National Road Safety Foundation bestowed the Innovation in the Classroom Award on Officer Dustin Kato, Chino Police Department, Chino, Calif. This award is presented for innovations in the classroom that educate young people about traffic safety. Kato was selected for creating and finding funding for a Safe and Sober Prom Week program. It included assemblies, distracted driving virtual reality simulators, classroom driver training and intoxication simulation goggles and tricycles. Kato's new program impacted 10 times the number of students a previous and costlier prom effort had reached.
NASRO presented its Regional Exceptional Service Award to 10 school resource officers. This award recognizes continuous and sustained service to the school community above and beyond that normally expected of an SRO. This year's recipients are:
Deputy Sonya Shepard, Okaloosa County Sheriff's Office, Shalimar, Florida.
Officer Timothy Fiedler, Baltimore County Police Department, Towson, Maryland.
Officer Gregory Suber, Baltimore County Police Department, Towson, Maryland.
Officer Lonzo Boyce, Duquesne Elementary School, Duquesne, Pennsylvania.
Officer Matt McCormack, Wallenpaupack Area School District Police Department, Hawley, Pennsylvania.
Officer Ronald Porupsky, Pleasant Hills Police, Pittsburgh, Pennsylvania.
Officer Elizabeth Heffler, Natick Police Department, Natick, Massachusetts.
Officer Brandon Qualls, Muncie Police Department, Muncie, Indiana.
Deputy Jon Tindal, Hamilton County Sheriff's Department, Arcadia, Indiana.
Officer Emmanuel Araneta, Alhambra Unified School District, Alhambra, California.
In addition, NASRO recognized the Quaker Valley School District Police Department of Leetsdale, Pennsylvania, with its Model SRO Agency Award for exemplifying in its training, policies and standards the NASRO triad concept; this describes three main parts of an SRO's role: mentor, guest lecturer and law enforcement officer. Model agencies also demonstrate creative and innovative approaches to school-based policing.
NASRO presented its awards during a luncheon ceremony at its annual national conference in Washington.
For more information about NASRO, visit www.nasro.org.