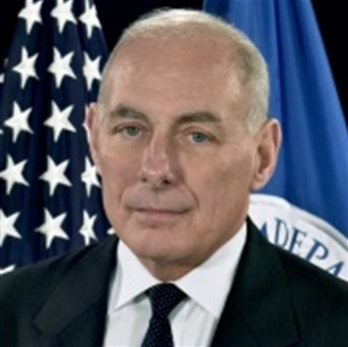 President Donald Trump has selected Homeland Security Secretary John Kelly as his new White House chief of staff, replacing Reince Priebus.
"I am pleased to inform you that I have just named General/Secretary John F Kelly as White House Chief of Staff. He is a Great American... and a Great Leader. John has also done a spectacular job at Homeland Security. He has been a true star of my Administration," Trump tweeted.
Priebus resigned privately Thursday, reports CNN.
The move was announced just after Air Force One landed at Joint Base Andrews outside Washington Friday.
In a statement released by the Department of Homeland Security Friday, Kelly said:
"I have been fortunate to have served my country for more than 45 years - first as a Marine and then as the Secretary of the Department of Homeland Security. I am honored to be asked to serve as the Chief of Staff to the President of the United States.
"To the tremendous men and women of DHS, I thank you for the opportunity to serve as your Secretary. When I left the Marines, I never thought I would find as committed, as professional, as patriotic a group of individuals. I was wrong. You accomplish great things everyday defending our nation and I know your exceptional work will continue."
A subsequent press release announced that Kelly will remain the Secretary of Homeland Security until Monday, July 31, when Deputy Secretary Elaine Duke will become acting Secretary.