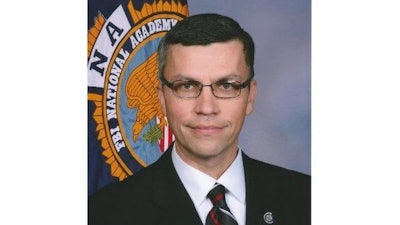 A 16-year-old has been charged as an adult with capital murder in the shooting death of an Arkansas police officer. The teen was being held Wednesday at a juvenile detention center, reports the Associated Press.
Henry Boyce, Third Judicial District Prosecuting Attorney, confirmed Wednesday he filed charges against 16-year-old Derrick Heard from Newport and 18-year-old Tyler Calamese in the death of Newport police Lt. Patrick Weatherford, reports KATV.
The other charges filed Wednesday against Heard were attempted capital murder, breaking or entering, theft of property, and possession of a handgun by a minor.
On June 12, Lt. Patrick Weatherford and Sgt. Shane Rogers responded to a call of a vehicle break-in near the area of Bowen Street and Newport Avenue. When Lt. Weatherford arrived at the scene, he saw an individual, later identified as Heard, fleeing the area.
Lt. Weatherford chased Heard on foot and Sgt. Rogers chased him in a patrol car. Heard is then accused of firing his gun, striking and killing Weatherford, and turning and firing the gun at Rogers.
The court documents say Heard admitted to the shootings and also admitted to breaking into a vehicle, stealing a purse, and fleeing when police approached.
An 18-year-old had previously been accused in the June 12 shooting, but Prosecutor Henry Boyce said that man will now just face charges of breaking or entering, theft of property, and furnishing a deadly weapon to a minor, the Associated Press reports.