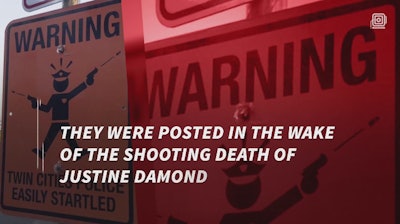 Mysterious signs have begun popping up around Minneapolis, blasting police for being "easily startled" after the fatal officer-involved shooting of Justine Damond.
"Warning: Twin Cities Police Easily Startled" read at least two fake street signs, designed to look like orange construction warnings, the New York Daily News reports.
It was not immediately clear who put up the metal markers, which KARE reported were affixed with heavy duty screws and being removed as of Monday.
They are likely a reference to the death of Damond, the 40-year-old Australian native who was shot and killed by a Minneapolis officer earlier this month after calling 911 about a possible sexual assault by her house.
That incident remains under investigation.