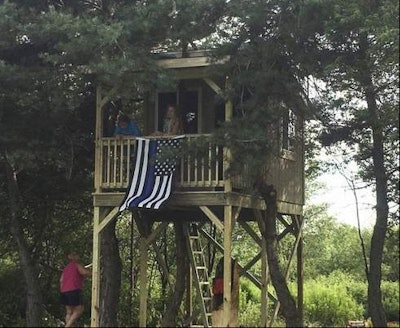 New York State Police Trooper Joel R. Davis was unable to finish building a tree house for his daughter before he was killed in the line of duty on July 9. But a group of Watertown, NY-area law enforcement officers came together and joined forces this past week to make sure Trooper Davis' project got done for his youngest child, 13-year-old Jaila.
State police spokesman Jack Keller said that 35 active and retired officers from the state police, the Jefferson County Sheriff's Department and the Watertown Police Department spent a day in the family's backyard to finish the enclosed wooden tree fort for the trooper's youngest child. Many of the officers were his friends, the Watertown Daily Times reports.

The state trooper and father of three died while responding to a domestic incident at a Theresa, NY, home.