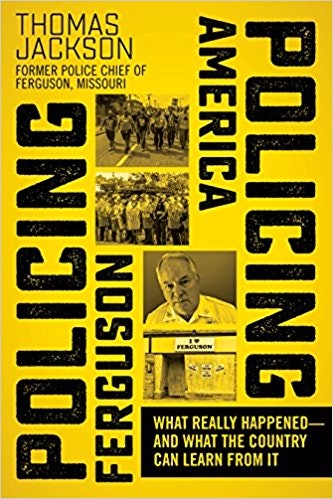 Three years after Michael Brown was fatally shot by police in Ferguson, Missouri, the town's former police chief wants to get a few things off his chest.
In his book, "Policing Ferguson, Policing America"(Skyhorse, out Tuesday), Thomas Jackson details the August 2014 fatal officer-involved shooting of Brown that launched a series of violent protests around the country for months, the New York Post reports.
The shooting's aftermath thrust Jackson into the hot seat, making him the "primary focus of outrage" in its wake, he claims. And it was a few key decisions made during the initial hours after the shooting — including the "inflexible protocol" of leaving Brown's body lying in the street for four hours — that he says created such a damaging narrative for police.
"Anybody who has watched a police drama on television knows that you don't move a body at a crime scene until the forensics team has examined both the body and the scene in detail," Jackson wrote. "Moving the body can cause lost or tainted evidence … On that Saturday, an ambulance had arrived right away. [Wilson] had been on an ambulance call just prior to the episode on Canfield [Drive], and the ambulance had been just minutes behind him. The EMTs determined that Brown was deceased. Since they were unable to do anything more until the crime scene team arrived, they left the scene."
But the anti-police message spreading on social media, according to Jackson, was that he, "as the face of the Ferguson police," had left Brown's body in the street to deliberately intimidate residents in the town of 21,000.
And if Brown's body had been moved before the scene was processed, Jackson claims it would've led to valid grounds for any claims of police misconduct.
"Damned if you do, damned if you don't," Jackson wrote. "I chose to play it by the book and ensure a proper accounting for what happened that day. I wish there had been another option."