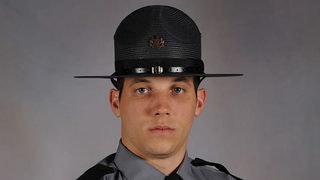 Pennsylvania State Police officials say a state trooper was killed in a multi-vehicle crash early Friday morning in Ligonier Township, Westmoreland County.
The State Police Commissioner identifies the fallen trooper as 26-year-old Michael P. Stewart, KDKA TV reports.
Officials say Trooper Stewart's state police vehicle collided with a garbage truck around 2:30 a.m. near the intersection of State Route 711 and State Route 271.
A second state trooper has been hospitalized. State police say his injuries are not life threatening.