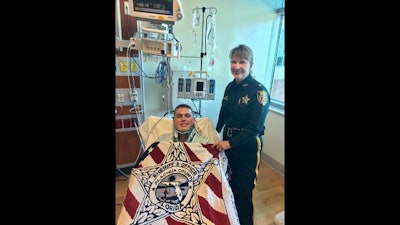 A Lake City, FL, police officer suffered a head injury Thursday night when he was dragged more than a mile at a traffic stop.
An officer had the vehicle pulled over and Officer Stuart Robinson arrived for backup after learning the driver of the vehicle, 30-year-old Breon Antoine Pope, had a warrant and a suspended license, said Mike Lee, Lake City Police Department public information officer.
Robinson somehow came into contact with the vehicle and was dragged down the road for more than a mile by Pope's vehicle as Pope tried to flee, ActionNewsJax reports.
Robinson has a head injury and is at UF Health Shands Hospital in Gainesville. He is reportedly in stable condition.
Charges are pending against Pope.