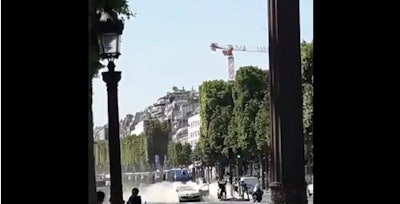 Tourists strolling along the famous Champs-Elysees in Paris, France on Monday afternoon watched in horror as a car rammed into a police van -- and some witnessed the car burst into flames as police grabbed the man inside and put him on the ground, reports CNN.
The armed driver deliberately plowed into the police vehicle and later died, authorities said.
It's the latest in a series of terror attacks this year against security forces in the French capital. The Paris prosecutor's office has opened an anti-terror investigation.
"Once again, France's security forces have been targeted in an attempted attack on the Champs-Elysées," Interior Minister Gerard Collomb told reporters on Monday.
"The car contained weapons, explosives, enough to allow him to blow up this car," Collomb said.
The small white car caught on fire after the collision, but neither officers nor members of the public were hurt, an Interior Ministry spokesman said.
According to CNN affiliate BFMTV, the driver was under what is known as a "Fiche S" file, a French terror/radicalization watch list composed of thousands of names, of which some are under active surveillance.