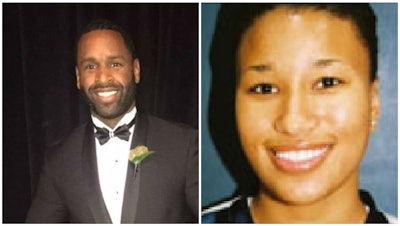 The two members of the Capitol Police who were injured while engaging the gunman who opened fire on a Republican congressional baseball practice were being heralded as heroes on Wednesday, reports NBC News.
"I spoke with Special Agent [David] Bailey and Special Agent [Crystal] Griner this morning," House Speaker Paul Ryan told his colleagues on the House floor. "One was being treated and one was about to go into surgery. I expressed our profound gratitude to them. It is clear to me, based on various eyewitness accounts, that without these two heroes, Agent Bailey and Agent Griner, many lives would have been lost."
According to witnesses on the scene, Griner and Bailey had been posted behind the first base dugout of Eugene Simpson Stadium Park — where the Republican congressmen were practicing a day ahead of a scheduled game against their Democratic colleagues — when the shooting started.
The shooter, identified as James Hodgkinson of Belleville, IL, ducked behind the third base dugout and exchanged gunfire with the two members of the Capitol Police. He made his way up to a utility shed by home plate when he was shot. Witnesses estimated that more than 50 shots rang out.
Griner remained in good condition in the hospital after being shot in the ankle, and Bailey was treated and released after sustaining a minor non-gunshot wound injury during the chaos.