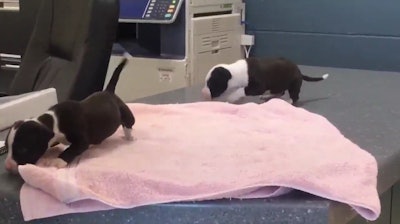 Two very young puppies are recovering after a Rock Hill, SC, police officer rescued them from a car in nearly 100-degree weather, reports WCNC.
The pups were spotted inside a vehicle in a parking lot around 4:30 p.m. Wednesday in the blazing sun. Three windows were cracked, so an officer was able to reach inside and unlock a door, reports the Herald.
Officer Robin Gander's quick thinking saved the pups' lives. The officer said the puppies were so overheated, she had to put them in a cooler she had her lunch in to bring their temperatures down.
Their owner, Latoya Reid, is accused of leaving the dogs in the car while she was getting her hair done. The temperature at the time of the incident was 94 degrees.
Reid was arrested and charged with ill treatment of animals.