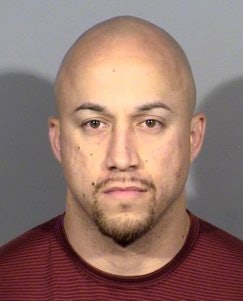 A Las Vegas police officer has been charged with involuntary manslaughter over an in-custody death that occurred last month on the Vegas Strip.
Las Vegas Metropolitan police officer Kenneth Lopera was charged Monday with involuntary manslaughter in the Mother's Day death of Tashii Farmer, 40, at The Venetian casino hotel. He also was charged with oppression under the color of office.
The charges stem from an early morning incident on May 14. Farmer approached Lopera and his partner inside the hotel around 12:50 a.m., to complain of people chasing him, police said. Farmer then ran into a restricted area of the property, and Lopera followed.
An altercation escalated, and Lopera punched Farmer with a closed fist multiple times, used a stun gun on him several times more than rules allow, and used an unauthorized "rear naked choke" to stop what the officer believed to be a carjacking in progress, police said.
The "rear naked choke" that Lopera used on Farmer is not approved by the Las Vegas department, according to a police department statement.
The Las Vegas Police Protective Association paid Lopera's $6,000 bail, KTLA reports.
Lopera, who had been on paid leave since the incident, was placed on unpaid administrative leave after charges were filed, police said. He also faces an internal administrative investigation.